The long awaited 2019 elections are winding down. We have experienced the Presidential and National Assembly elections with myriad of concerns and challenges. The Governorship and State Assembly Elections have equally been laced with unprecedented greater concerns and disappointments. We are consistently experiencing a systemic and shameful culture of a militarized society under democratic governance.
It is not the magnitude of involvement of the military with the strategy and preparations for the elections as a military OPERATION that is the issue. Similarly, it is also not the legacy of military mentality in Nigeria that once the Head of State is happy, the whole country MUST be happy.
It is not the unrepentant politicians that have consistently engaged elections and access to governance (notice I deliberately did not indicate POWER) and its inherent huge resources as an OPERATION. It is equally not the electoral umpire with its self inflicted challenges coupled with the imperative reliance on the input of other agencies that has reinforced DISOPERATION.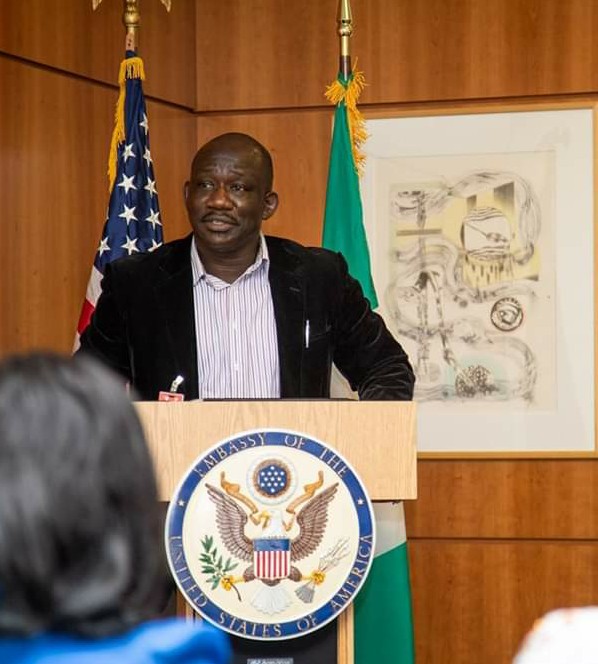 If, among others, these has continued to trigger the huge payment for a violence culture. What then is the issue? It is the civil society that has not collaboratively and consistently acted decisively by placing a demand for a new vista of citizen engagement and governance culture.
The civil society is YOU and I! Not the vocal prominent organizations or platforms that with commendable efforts intermittently issue statements with recommendations including photo-ops sometimes with the diplomatic community and engage in open or back channel advocacy to influence policies or decisions of difficult politicians and leaders.
It is the civil society that is determined to OPERATIONALIZE and demand for their social contract according to the French thinker, Rousseau- "the general will of the people should be the driving force of the society" not simply if the President or Head of State is happy, the country MUST be happy.
It is the civil society that is determined to change an exclusive political system where someone applies for a job in government house for just 4 years and if he/she luckily makes it 8 years maximum, he/she in cohort with uncivil partners in the legislature enshrines in the law of a state generational benefits for his or her exit that only civil servants that worked for 10-35 years can only or can't dream of!
It is a civil society that understands politicians would not willingly sit down to suddenly become saints to agree to the change of a political system except they are forced to or compelled to by collective action. It is a civil society that is ready to withdraw from consistent electoral activities that the military institution derisively plays a visible and prominent role.
It is shameful that the distinguished military institution I was privileged to meritoriously invest up to 16 years of youthful service will be ridiculed with its questionable activities during elections which has continuously impacted negatively on its proud image and integrity. It is undoubtedly understood that there are some terrains based on threat analysis that would require military support or intervention due to the misguided and stubborn nature of thugs, criminals and militants who do not see beyond their immediate gains and are often mobilized by politicians.
However, has the police exhausted all its capacities to warrant the extent of the visibility of the military? There is the often rhetoric of the need to follow rules of engagement and if need be, the use of minimum force. Interestingly, what is minimum force to the police is certainly different from minimum force to the military. It is the civil society that is determined to remind the political leadership that governance and security are intervening variables and that early response to early warning does not usually portray responsive governance but early best-fit response.
For instance, during the Cultural Revolution in China, Chairman Mao got a report, "intelligence report" in Nigerian context, that there was scarcity of meat in the country. The social contract character-driven leadership in him immediately directed that meat SHOULD NOT be supplied to the Presidential palace until there was enough meat available to the citizenry.
It would be interesting to push our current and potential leaders to that stage where if there's fuel scarcity, they stop the fueling of fuel dumps in government houses until fuel is available to the populace. The re-mobilization to invest in future peaceful elections and by extension a stable country must start NOW!
It is a civil society that is ready to work as a collective and not in silos to demand for positive action at the Federal, State and Local levels beyond public statements and limited advocacy. Obviously, some actions would require progressive constitutional changes while some would require quick endearing policy decisions.
It is a civil society that would demand from political leadership and potential candidates a document that encapsulates work plan, deliverables and timeline on promises made to reinforce participatory and accountable governance.
By the way, will there be so much tension and violence associated with our elections when we strategically operationalize the demand for change or reduction in the trappings associated with offices where allowances not emoluments are based on services rendered? Will there be so much tension and violence in elections when the private sector invests more in peace architectures that would stimulate a safer business climate rather that invest in and promote politicians that would serve their business interests when they get to office?
For me, as a proud and converted apologist of the civil society, I am passionately aligned with like minds ready for an OPERATIONALIZATION of a serious improvement in the electoral system and service oriented governance or leadership culture that can be entrenched in Nigeria! I am ADE