As a part of his advocacy agenda to mitigate the effects of Climate Change in Nigeria, Babatunde Ismail, a Nigerian Climate Change Activist has embarked on intercity cycling road trip from Abuja to Lagos today.
According to him, this is a critical period that we need urgent and deliberate action to the climate impacts.
"Without these little little deliberate actions, it will reach a tipping point and climate change will become unstoppable" .
"As a Climate campaigner whose primary aim is to protect the world climate through our major Advocacy.
"We will be cycling from Abuja to Lagos across Kogi, Ondo, Ekiti, Osun, Oyo, Ogun & Lagos state respectively to demonstrate commitment of action to achieve Net zero by 2060 in Nigeria.", he said.
Babatunde stated that the climate catastrophe has led millions to hunger, loss of livelihood with the resultant effect to poverty, breach of peace leading to crisis & agitation, fueling insecurity farmer's & header's clashes and has also affected our unity & diversity.
"For us to end hunger & fight poverty which is part of UN-SDG goal (1&2) zero hunger and No poverty. for food sufficiency we most collectively addressed the issue of climate change crisis by mitigating the impact and build climate resilience & adaptation while increasing funding for climate finance, bringing technology at the center to drive our energy transition to achieve net zero by 2060.
"This is not about me, it's about the generality of the people, our future and for the future of our children and the unborn children. We must take action to mitigate climate change, we need community sensitization & public awareness, we need the commitment of our political actors to stem the tide of political will to address the issues.
"As I journey through, I will be creating public awareness, sensitize some community, and engage with the LGA & all the state governor including our traditional institutions.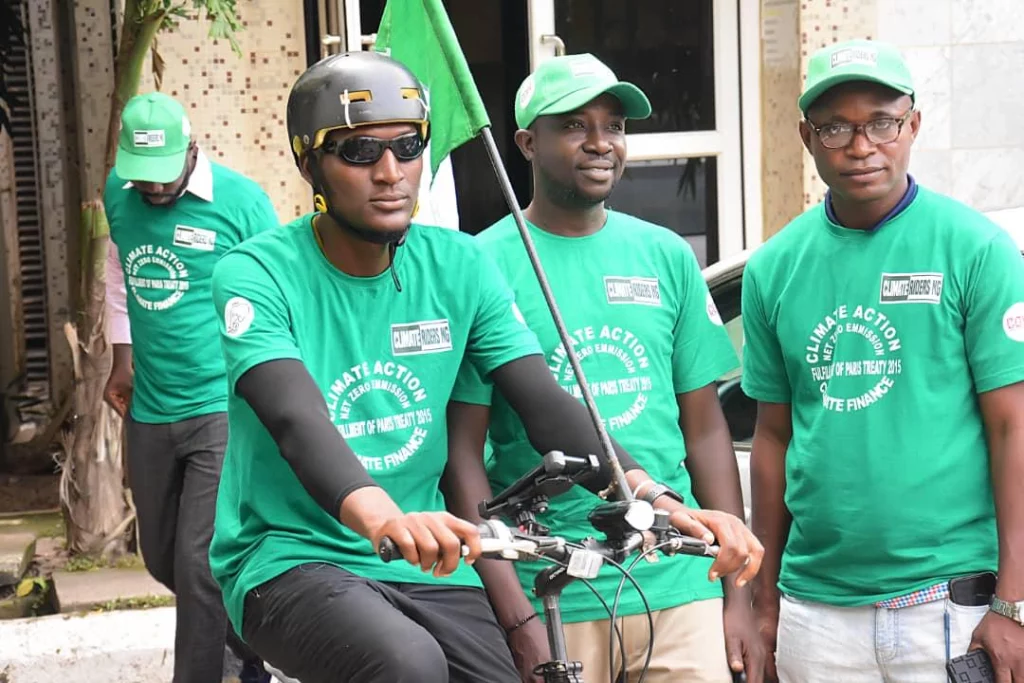 As part of the Pre-COP28 activity, our expectations is for developed nations to double & even triple the climate finance to developing nations most especially in Nigeria & Africa. Africa global carbon emissions represent 4% while others has it at 94% across Asia, America & Europe etc
Having said this, Nigeria & Africa is more prone and highly vulnerable to climate crisis which is already affecting us negatively which has lots of negative impact on us.
At UNFCCC 28, conference, we must act on the fulfillment of Paris agreement treaty of 2015, not just making mouth watering commitment, we need more of action in capacity building, Financing and technology to address this global crisis & achieving Net zero.
The hope is deeming for call to climate action, and that is why I'm stepping up to inspire hope, I call on every Nigerians to join hands in the challenge pose by this climate crisis to address the issues, including people in the creative & entertainment industry to raise more awareness, let's speak it, sing it, echo it and act on it, for the benefit of our planet.
"I solicit for the support of Nigerians that we can only make significant progress with collective action, follow my trip, tag, like and make comment to have a wider reach" he said.