Two Secondary school students of Wesley Girls Senior Secondary School, Yaba Lagos, Abdulsalam Omotunde and Korole Elizabeth Boluwatife have emerged the winners of 2023 Nigeria-Stockholm Junior National Prize.
The event which took place at the Swedish Embassy in Abuja, last week, had these two winners came tops in their final interview/Presentation with the panel of jury, beating other seven secondary schools that made it to the final stage, to it.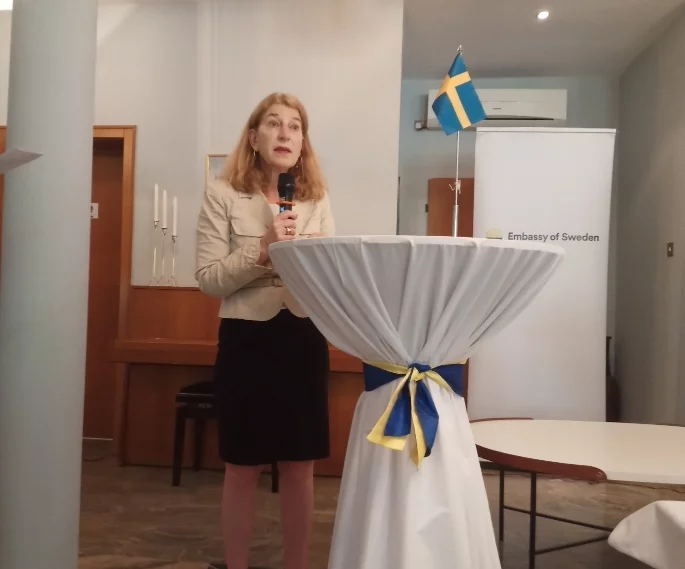 The Ambassador of Sweden to Nigeria, Her Excellency Ambassador Annika Hahn-Englund while giving her welcome address at the event, went down memory lane on the origin of Stockholm Junior Water Prize in the year 1997 and how Nigeria has participated in the international competition over the years.  
She specially appreciated the National Organizer, Mr. Ikechukwu Godwin Chinemerem and his team for consistently organizing the competition in Nigeria since the year 2018 till date, and reiterated the Embassy's commitment to support laudable projects like this in Nigeria.
She said the Swedish government through Stockholm International Water Institute (SIWI) focuses on a range of research and development topics within and around water that support decision-makers globally.
She noted that the institute leverage knowledge and her convening power to strengthen water governance for a just, prosperous, and sustainable future.
According to the National Organiser, Mr. Ikechukwu Godwin Chinemere while giving his opening remarks at event, "we appreciate the Swedish Embassy in Nigeria for consistently lending her support for the realization of this project over the years.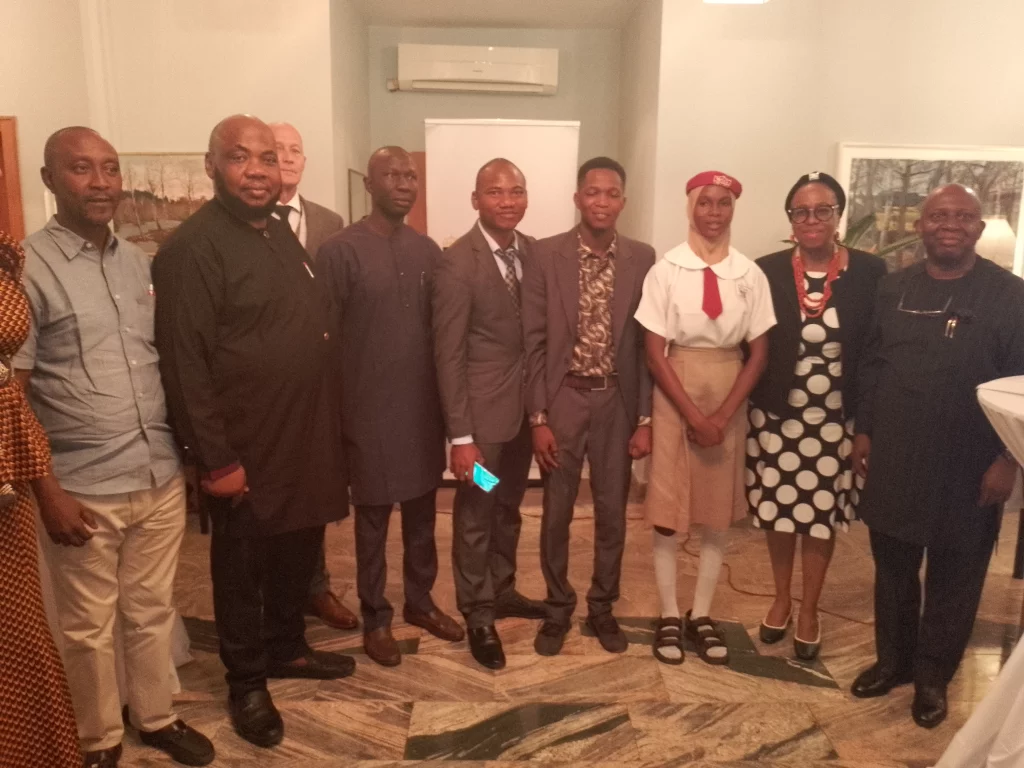 "Nigeria -Stockholm Junior Water Prize is a platform that allows young people in Nigeria to harness their inner creativity towards providing solutions to problem of unsafe drinking water without negatively impact our immediate environment." Godwin said
"With platform like this, our students will be able to compete favourably with their international counterparts in Stockholm this year"
He further commended the friendship and hospitality of the Embassy over the years. He appreciated the members of the panel of Jury for their commitment to raising the next generation of world-class water leaders in Nigeria.
"For this year's Nigerian Stockholm Junior Water Prize, we had sixty entries received from different schools across the country, but only seven made it to the final," Godwin added.
The Schools that participated in the national finals were:
Iju Senior Grammar School Iju, Lagos.
Anchor Springfield School, Ota Ogun State.
Faith Point School, Idimu Lagos State.
Wesley Girls Senior Secondary School, Yaba Lagos.
Lead British International School, Gwarimpa, Abuja.
Noble International Secondary School, Uyo, Akwa Ibom State.
After the Final interviews and presentation, the Panel of Jury were able to pick 3 projects for the national award and they are summarized below.
1. Abdulsalam Omotunde and Korole Elizabeth Boluwatife from Wesley Girls Senior Secondary School, Yaba Lagos, presented a project with the topic 'Bithermal Water Distillation Device' in their project, they used the readily available solar energy in the tropics to purify water.
2. Igwe Divine Emmanuel and Christian Divine Favour from Noble International Secondary School, Uyo, Akwa Ibom State, presented a project on 'Eco-friendly Water Purification Method'. They used locally sourced materials to treat much polluted water.
3. Adesanmi Rachel and Owolabi Oyindamola of Faith Point School, Idimu Lagos State, presented a project on 'Recycling Fishing Water' Evaluation of Projects by Members of Jury.
The three projects were evaluated by members of Jury based on the following guidelines and criteria: Relevance of project to the environment and society Creativity of project and methodologies (scientific and replicable) Subject knowledge by students Practical skills Method of reporting and presentation.
And after careful considerations by members of Jury and rating of projects based on aforementioned criteria, the first three projects with the highest scores were selected.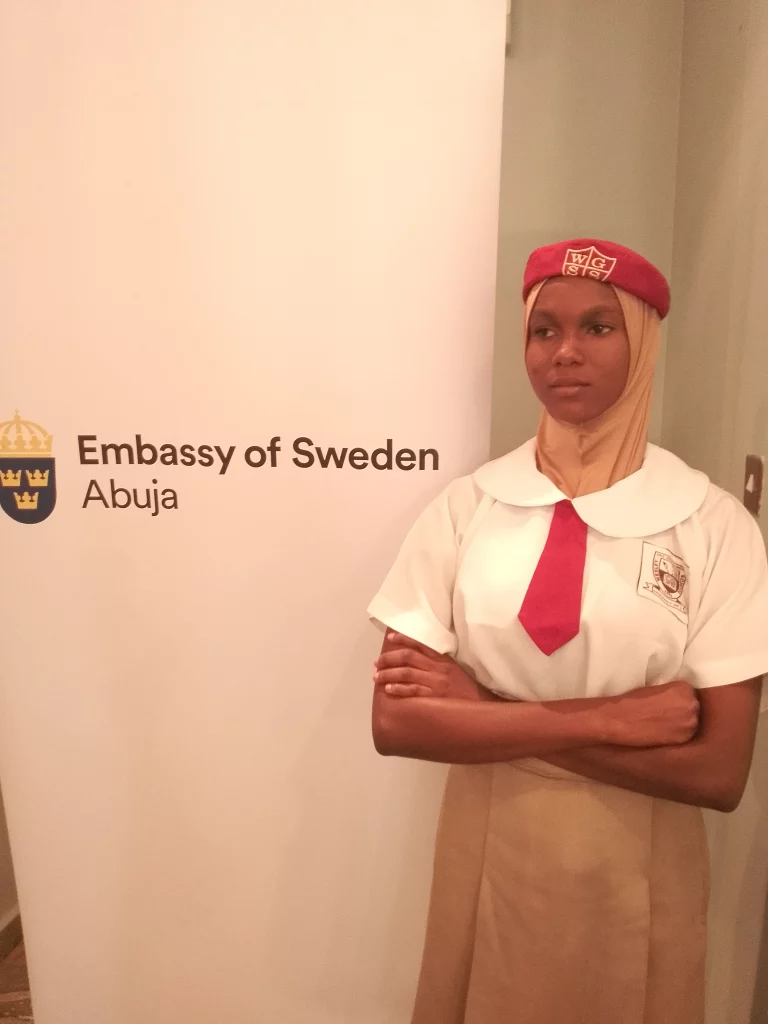 One of the winners, Abdulsalam Omotunde of Wesley Girls Yaba, said she was elated when her name was called as the winner of the competition.
"This will be an unforgettable experience for me, I was estatic when my name and our school were called as the winner. Even though I never expected it. However, we put in all our best in the project" said 16 year old, Omotunde.
The two winners will be representing Nigeria at the Stockholm Water Week in Sweden, later this year.