Senator Uba Sani representing Kaduna Central Senatorial District has commissioned and handed over neighborhood sports centers in Kaduna North, Igabi and Kaduna South Local Governments and an ICT center in Turunku to relevant Kaduna State Government Ministries and Kaduna South Local Governments respectively.
These were part of the Zonal Intervention Projects he facilitated for the teeming youths of Kaduna State to showcase their talents, realize their full potentials and keep abreast of technological developments.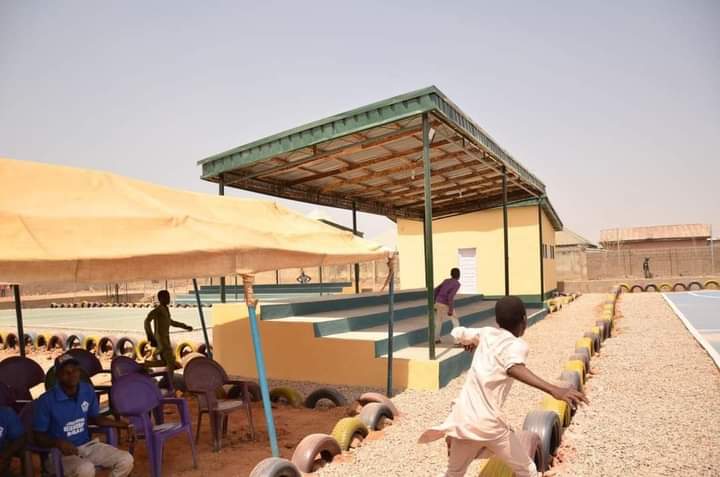 He was joined at the colourful ceremony by the Kaduna State Commissioner for Youths & Sport, representatives of the Nigeria Deposit Insurance Corporation (NDIC), officials of the All Progressives Congress (APC), Royal Fathers and other critical stakeholders.
The completion and handover of the neighbourhood centres and ICT Centre is indeed a dream come true. Kaduna State is overflowing with talents in different sports. If the sports sector is properly harnessed and developed as a business, it has the potential of fundamentally contributing to the fight against poverty and youth unemployment.
Sports is also a tool for building peace and ensuring harmonious existence. Through the neighbourhood centres our youths will interact effectively, understand each other better and build lasting relationships. The ICT Centre will contribute to the development of the skills of our youths in information technology. The knowledge economy is the future of the world. Our youths must be repositioned to be globally competitive.
In his words, "the initiation of these projects is a deliberate move to complement the wonderful infrastructural drive of our dynamic and innovative Governor, Mallam Nasir Ahmad Elrufai" , he said.