Hong-Kong based cryptocurrency marketplace, CoinCola, has extended its cryptocurrency exchange services to Nigeria, offering a fast and secure trading service to users.
Cryptocurrency and blockchain technology are growing rapidly in the world and many people are starting to key into it. Startups are raising funds through Initial Coin Offerings (ICOs) and companies are beginning to accept cryptocurrencies for good and services. Even in Nigeria, despite appropriate legislation not put in place, cryptocurrency trading is gaining ground.
But there seems to be slow adoption of this technology on the African continent. Hence, CoinCola's aim to provide trustworthy trading and exchange services to all its users all around the world, with Africa being a key place of interest.
"We believe that Blockchain technology will be essential to providing secure banking and payment services in the future and also that cryptocurrency will greatly improve the convenience of daily transactions and help to create a world that is financially borderless. Hence, our mission is to connect everyone to this new digital asset economy." CoinCola.
An over-the-counter (OTC) cryptocurrency marketplace and exchange platform, CoinCola offers users secure trading services at competitive fees and exchange rates.
Using its app based platform, users can buy and sell cryptocurrencies with their local currencies via the CoinCola OTC marketplace. These includes Bitcoin (BTC), Ethereum (ETH), Bitcoin Cash (BCH), Litecoin (LTC), Dash (DASH), Tether (USDT) and Ripple (XRP). This purchase or sale, is done on a person-to-person (P2P) basis.
Users can also post adverts for free and are only charged a trading fee of 0.7% of the traded amount once the transaction has been completed. This is fair price when compared to other competitors like Paxful that charges 1%.
CoinCola also offers an exchange market. The platform allows users to exchange Bitcoin (BTC) and Tether (USDT) through crypto-to-crypto trading pairs, to Ethereum (ETH), Bitcoin Cash (BCH) and Litecoin (LTC).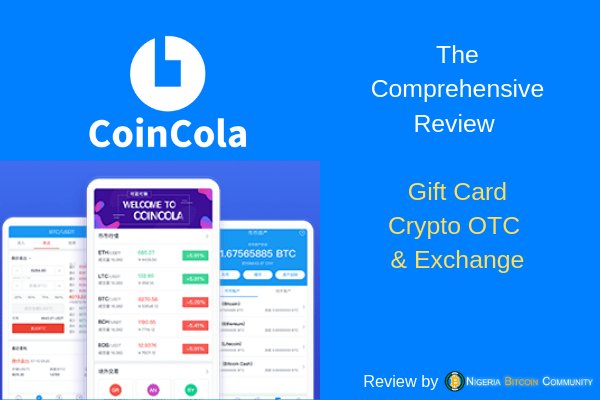 For this, a trading fee of 0.2% of the exchanged sum is charged. However, there is a fixed withdrawal fee.
A new feauture which allows users buy Bitcoin with gift cards has also been added. So users in Nigeria, Ghana and everywhere else in Africa can use the various gift cards to buy Bitcoin.