The Speaker of the House of Representatives, Honourable Yakubu Dogara, has felicitated with Nigerians, especially Christians on the Christmas celebrations.
According to a statement by his Special Adviser on Media and Public Affairs, Turaki Hassan, the Speaker prayed God's peace to be multiplied to all Nigerians.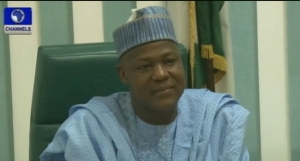 He said that the citizens have every reason to thank God for the possibility to witness another Christmas, amidst all the challenges facing Nigeria as a nation.
"Christmas is a period for us to individually and collectively reflect on who and what made Christmas necessary, our values, virtues and ideals of unity, peace, godliness and tolerance which Christ advocated and exemplified during his earthly ministry.
"I call on Christian faithfuls to embrace the reason for Christmas and imbibe these virtues and ideals and also to key into the current administration's change agenda for the peace, unity and development of our dear nation.
"In spite of the challenges we are faced with, I urge all Nigerians to have an abiding faith in the fact that by working, we must work together, surmount them and forge ahead as a nation.
"On our part, the House of Representatives is determined more than ever before to pass people-oriented legislations that will help guarantee the much needed and desired change in all facets of our national life.
"I enjoin Nigerians to continue to pray, support and cooperate with the present government to deliver on its mandate so that our country will once again occupy its place of pride in the comity of nations," the Speaker said.
Honourable Dogara also urged Nigerians to use the occasion of Christmas to be their brothers' keepers by reaching out to the Internally Displaced Persons in various camps across the country.
While giving the assurance that the Federal Government was doing all within its powers to expeditiously resettle displaced persons in the country, he emphasised the readiness of the National Assembly, and the House of Representatives in particular, to partner with any organisation, group or person to build and rehabilitate areas devastated by the activities of Boko Haram insurgents, especially in the northeast region.
Photo credit: Channel TV