International Alert Nigeria, an international peace-building organization has advocated for non-kinetic approach in achieving sustainable security, peace and national stability in the country.
Paul Benshima-Nyulaku, Country Director of the Organization made this known yesterday in Abuja, at the opening of the 2nd National Stability Dialogue (NSD) in collaboration with The Office for Strategic Preparedness and Resilience -OSPRE (National Early Warning Centre of the Vice President)and National Orientation Agency. 
According to him, "We have come to a stage where we need to recognize that the Non-kinetic Approach which focuses on human security and well-being of the population needs to be an integral part of our campaign strategy for the security forces rather than complimentary."
"Non-kinetic Approaches shouldn't be something we just talk about, but it's something that we need to find a place to integrate into the very framework that drives the military operations that are established in different parts of the country."
While sharing the essence of the NSD, he stated that the dialogue was the second NSD, of which first edition centered around Elections and reconciliations.
"This is the second NSD and it's organised with support from the UK International Development (FCDO) through the Promoting Stability, Access to Justice and Accountability in Northwest Nigeria Project (Samun Adalchi Shi Ne Kwanciyar Hankali)."
"We know there are lot of challenges that we face as a country, and we have talked about these challenges over and over with no sense of what the solutions are. One of the ways to find solutions is to have common strategy that helps to take things forward."
"And in this case, there have been a lot of conversations around kinetic and Non-kinetic Approach in achieving National Stability."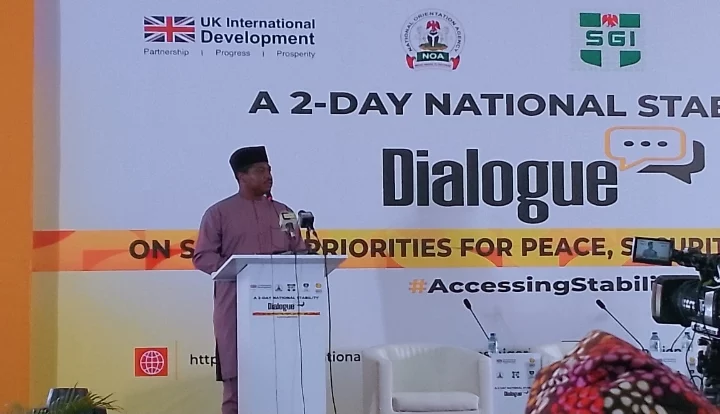 "These two approaches are two lines of efforts that need to come together but how will that happen? The answer is what NSD seeks to provide." he said.
Nyalaku added that his organization has been committed to working closely with the key stakeholders in Peace, Security and stability institutions and gaps that have identified must be addressed.
"At International alert, we have been working closely with the key stakeholders and institutions across peace, stability and security. We have been working closely with sub-national government."
"Aside all the gaps we have identified, we must also pull resources and information together and ensure that this work around Peace and stability is something that is crucial for our National peace and development.
"It is a sense of responsibility that we all have, to ensure that the myriads of challenges around security that we face in Nigeria, we all put our hands together to address them."
"This is just beginning of a sustainable process that will take us to a place where we begin witness the changes that will happen through these conversations."
He added that all the very important views from panel Discussions, group works, presenters at the 2-day event shall be put together as a strategic guidelines.
"These Strategic guidelines will be shared with decision and policy makers across peace, stability and security institutions in Nigeria. It will be an advocacy strategy for priorities set and to ensure that all these are implemented." Nyalaku said.
Speaking at the 2nd NSD, Richard Montgomery, High Commissioner, British High Commission highlighted the the United Kingdom's commitments towards achieving sustainable peace and stability in Nigeria through their Projects.
"As United Kingdom, we are firmly committed to working in partnership and supporting your efforts in achieving Peace and stability.
"We already have long standing history of security and defence partnerships. We have worked together on counter-terrorism, human rights as well as promoting the roles of women, all of which are important building blocks for fostering community based peace building and stability.
"So we hope this second NSD would help informed our renewed thinking, particularly for the UK, because this is about international community, and you could reshape their understanding of national Peace and stability in Nigeria.'
"My hopes for this dialogue are that, it would help identified strategies, particularly on the purposes of non-kinetic and that of kinetic approaches in addressing different challenges facing different part of this country.'
"I also do hope the dialogue would help ways and how to better protect the civilians in the country." Richard said.