Airbus, renowned aerospace company, has unveiled its market forecast for Nigeria says Nigeria will require nearly 160 passenger and freight aircraft by 2042, as well as other endless economic benefits that would come with it.
The Aircraft-Producing giant made this disclosure at a media briefing ahead of the 7th Aviation Africa Summit and Exhibition opening at the Abuja International Convention Centre.
Speaking during the briefing, Jeop Ellers Airline Marketing Director, Airbus, stated that Nigeria being home to the two of the World's Fastest-growing cities the shape of Lagos and Abuja, airlines serving Nigeria would require nearly 160 passenger and freight aircraft by 2042, according to the 2023 Airbus Global Market Forecast (GMF). This Includes 131 Single-aisle aircraft such as the A220, A320 families, and 28 widebody aircraft such as the A330 and A350 families serving the Nigerian Market In The Next Two Decades.
While sharing the foray of Airbus into Africa's Aviation Market Jeop said Airbus's presence in Africa is as diverse as the continent itself. "Since the mid-1970s our range of innovative commercial airliners have operated on route to, from and within the continent." 
"Africa was the first export market for Airbus's very first commercial jetliner, the A300. It was also one of the first export markets for the A320,the world's first flyby wire controlled commercial airliner, which set the standard for fully digital airliners.
"Since then, Airbus has become synonymous with air travel to,from and in Africa with more than 270 Airbus aircraft currently being flown by nearly 40 African operators across the continent.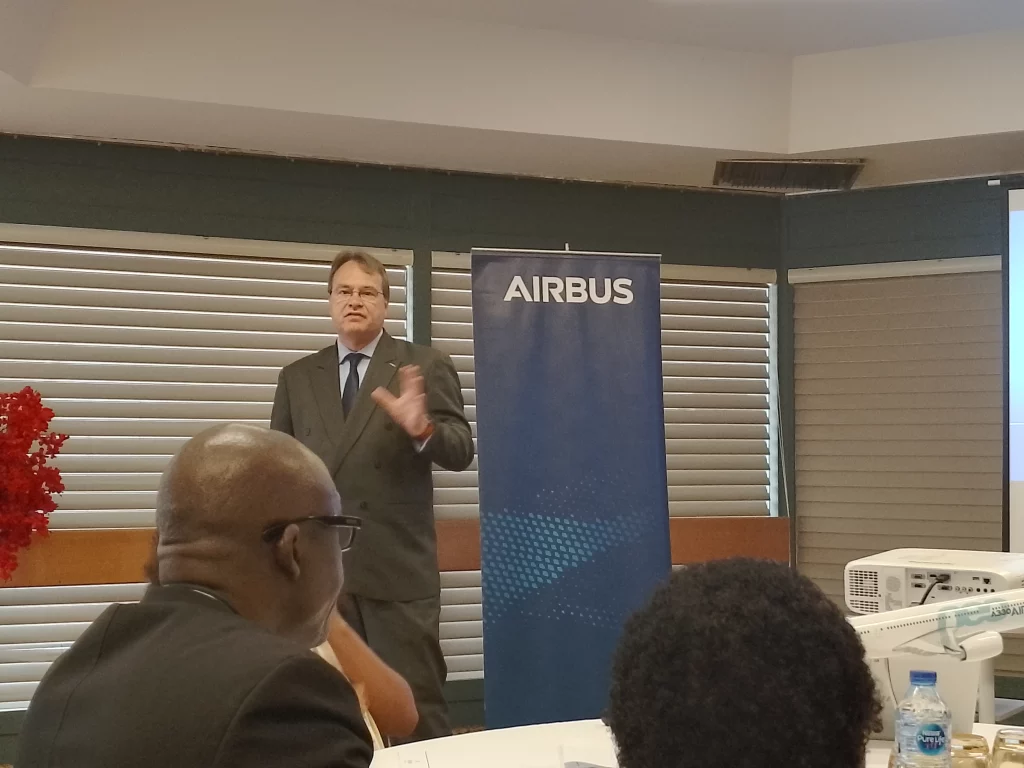 He added the the Airbus Global Market Forecast predicts that passenger traffic to, from and within Africa will increase by 4.1% yearly over the next twenty years,with demand driven by urbanization, trade and tourism could rise even faster if the Single Africa Air Transport Market (SAATM) is fully implemented across the continent. Conservatively Speaking, African Carriers Will Need atleast160 new passenger and freighter aircraft to meet the rising demand by 2042.
According to him, Aviation plays a pivotal role in driving economic development across the African Continent creating jobs, facilitating domestic, intra-African and global trade and regional integration.Its significance is particularly profound increase of Nigeria. Africa's Most Populous Country, marked by substantial landmass, vibrant, dynamic and ever expanding economy.The aviation industry Nigeria possesses the potential to emerges at connective tissue that binds together its diverse regions and fuels economic progress.
Airbus also predicts that the aviation sector growth on the continent will drive average yearly services demand up by 4.1%, from US$2 billion, to US$7billion. Growing Maintenance Repair& Overhaul (MRO) services at both local and regional level are central to the sector's growth, safety and longevity. The expansion of MRO capabilities in the country could serve to bringing additional revenues, reduce air craft maintenance costs and provide even further opportunities for job creation and skills development in Nigeria and the continent at large.
As Nigeria and indeed Africa's aero space industry grows and becomes more dynamic, an increasing demand for specialised skills is creating thousands of new opportunities for young people the continent.
Already, estimated 7million direct and indirect jobs have been created by the industry in Africa. Airbus predicts that a further 17000 technicians,14000 pilots and 23000 cabin crew positions will be required across Africa in the next 20years.
Regional cooperation and cross-country licensing are important in ensuring that talent is retained, while government and private sector partnerships and training academies are essential increating a pipeline of talent for a robust and sustainable aerospace industry in Africa.
In the wider African continent, Airbus predicts that 1180 new aircraft will be needed for the continent by 2042, made up of 295 widebody and 885 single-aisle aircraft. During this period, the fleet in the region will transition to new generation types such as the A220, A320 neo family,
A330neo and A350 bringing significant efficiency improvement and a corresponding reduction in carbon emissions per passenger.
Over the past 10+ years, significant improvements to the industry have been made across the contnent, including the creation of the Single African Air Transport Market (SAATM) as well as the modernisation of fleets by national airlines.There are currently 265 Airbus commercial jetliners flying with 36 operators in Africa. Today African carriers such as Ethiopian Airlines, Ibom Air, Air Senegal, South African Airways, Air Côted'Ivoire, EgyptAir, Uganda Airlines and Air Tanzania, have chosen to operate some of the most technologically advanced aircraft such as the A350, A330neo, A320neo and the A220.